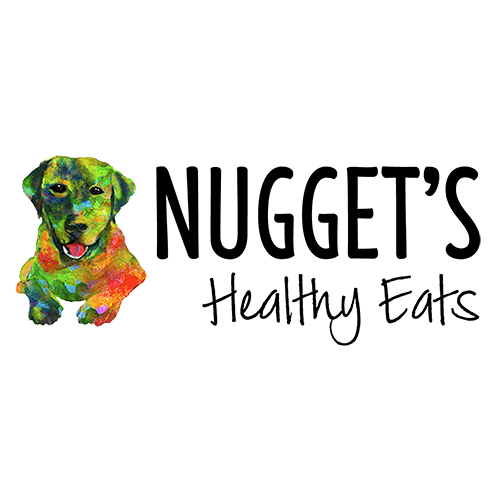 Nugget's Healthy Eats
GUT-HEALTHY SNACKS
100% human-grade, locally sourced ingredients from small family farms in the Midwest
Small-batch handcrafted
Low in calories and fat
Hormone & antibiotic free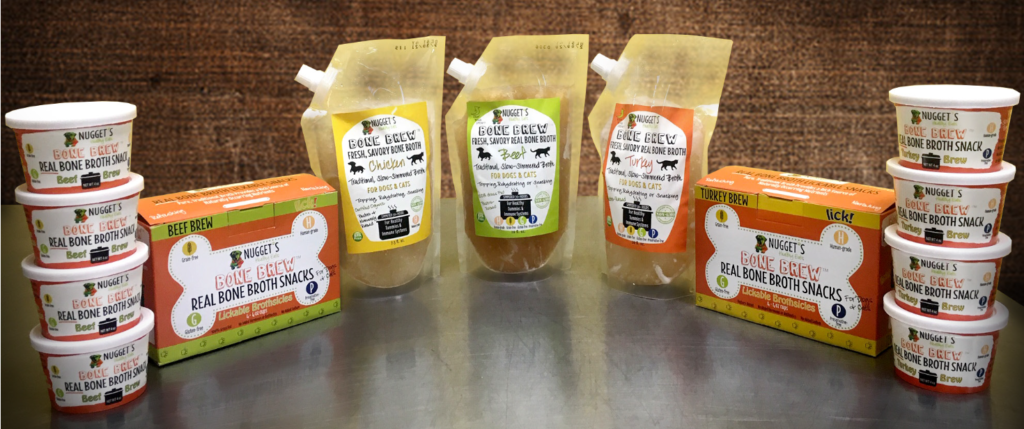 We are excited to now carry Nugget's Healthy Eats dog treats! Nugget's Healthy Eats's mission is to provide pets with delicious, nourishing gut-healthy snacks that can double as toppings for meals.
Nugget's Healthy Eats produces frozen as well as non-frozen products:
Frozen:

Bone Brew™: Real Bone Broth
Smart Snacks™: Artisan Yogurt
Bone Broth Butter™: Enrichment Spread
Non-Frozen:

Jammin' Jowlers™: Bone Broth Jerky
Gut Goodies™: Training Treats
In addition to gut-health support, Nugget's pet treats:
Strengthens the immune system
Boosts hydration
Enhances joint, skin, and coat health
Calms arthritis & inflammation
Stimulates appetites
While all pets can benefit from foods that support a healthy digestive system, Nugget's is most beneficial for pets with:
Arthritis and/or inflammation
Upset digestive systems
Chronic health issues
Low appetites
Allergies and/or food sensitivities
Low-calorie and/or low-fat diet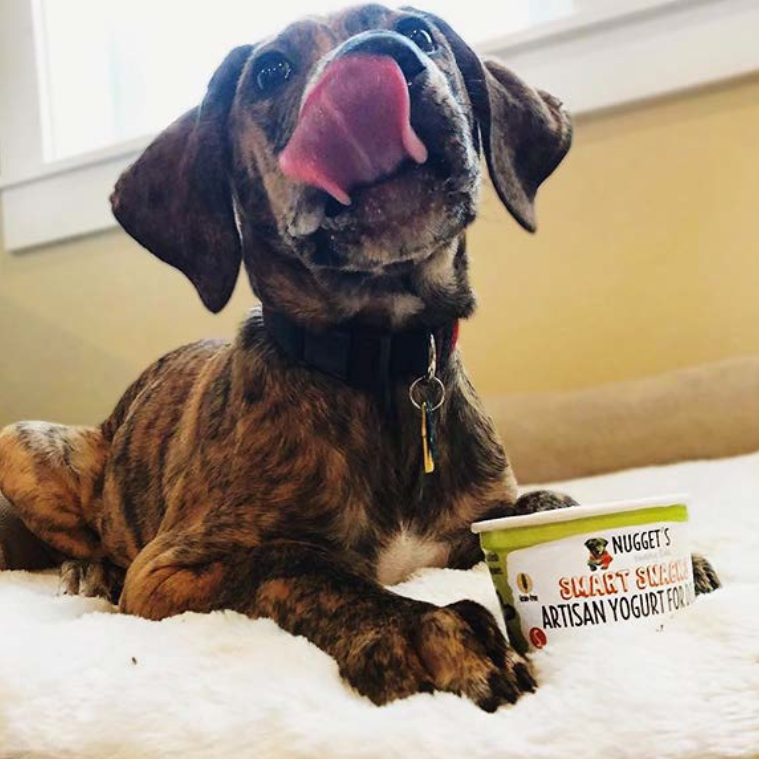 Check out the line of Nugget's products we carry below!
Don't see the product or flavor you want in-store? Place a custom order in-person with April or online – no extra fees or charges!
We are the only store in town that carries Nugget's Healthy Eats so be sure to pick up some Nugget's for your dog to try today!
Want to learn more about Nugget's Healthy Eats? Browse their site here!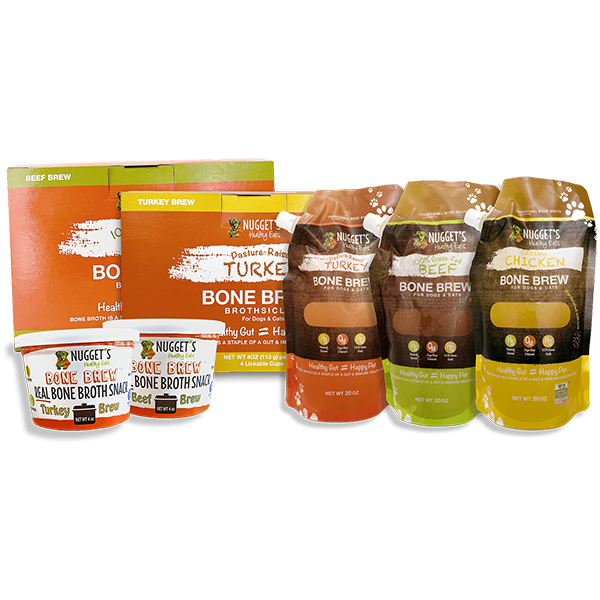 Bone Brew™: Real Bone Broth
---
Kettle-simmered with organ meat for days, extracting as much flavor and nutrients as possible, resulting in gelatin-rich broth
Available in lick-able cups or pourable bags
Try all 3 flavors!:

100% Grass-Fed Beef
Organic Chicken
Pasture-Raised Turkey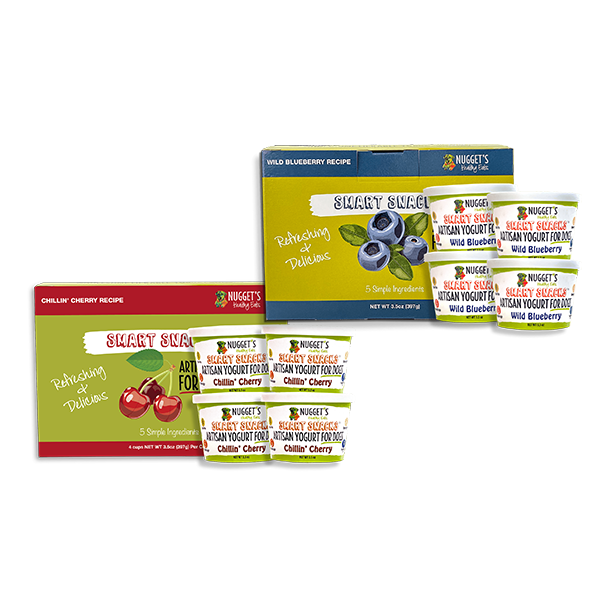 Smart Snacks™: Artisan Yogurt
---
Made with milk from grass-fed, hormone- and antibiotic-free cows on open pastures
No gums or artificial sweeteners
Includes live and active probiotic cultures for happy, healthy tummies
Try both flavors!:

Wild Blueberry
Chillin' Cherry
Bone Broth Butter™: Enrichment Spread
---
Conveniently support your pup's gut by using the spread as a meal topper!
Entertain your pup by:

Stuffing a chew toy
Spreading onto a lick mat

Try all 3 flavors!:

100% Grass-Fed Beef
Organic Chicken
Pasture-Raised Turkey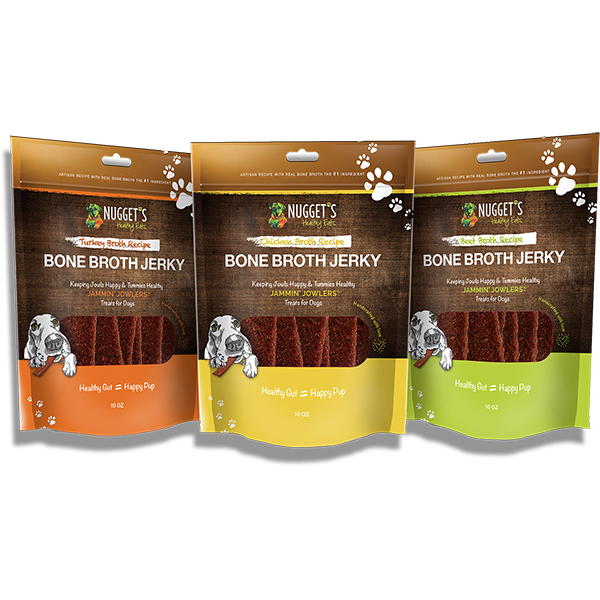 Jammin' Jowlers™: Bone Broth Jerky
---
The #1 ingredient is Bone Brew™: Real Bone Broth
The gelatin-rich bone broth gives the jerky a soft, sticky texture, making it the perfect "pill meatball" for dogs on medication!
Try all 3 flavors!:

100% Grass-Fed Beef
Organic Chicken
Pasture-Raised Turkey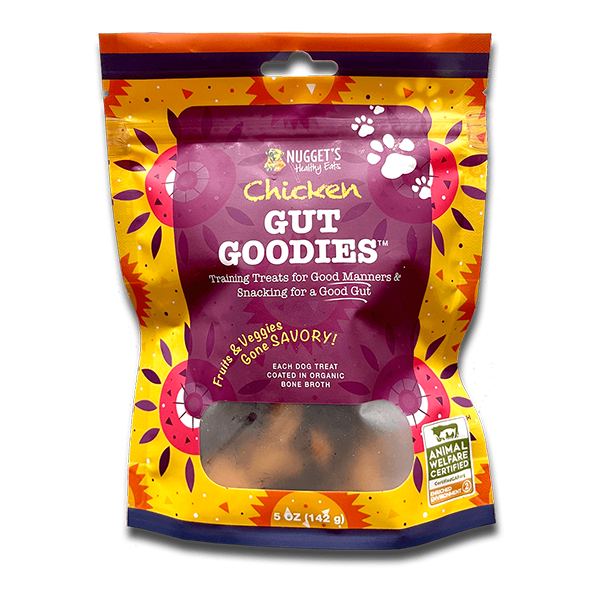 Gut Goodies™: Training Treats
---
Each training treat is double-coated in Bone Brew™: Real Bone Broth
Includes naturally-dried fruits & veggies, such as bananas, cranberries, beets, and carrots
No sugar or sulfur dioxide added
Try all 3 flavors!:

100% Grass-Fed Beef
Organic Chicken
Pasture-Raised Turkey